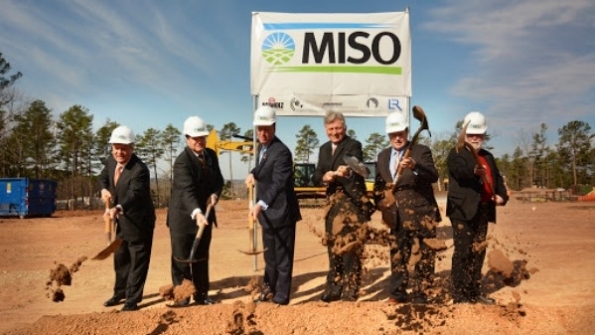 SOURCE MISO
Facility will enhance coordination and efficiency across all three regions
CARMEL, Ind., March 14, 2014 /PRNewswire/ — The Midcontinent Independent System Operator, Inc. (MISO) broke ground today on a regional operations center in Little Rock, Ark., signifying a continued commitment in the reliable delivery of least-cost energy to MISO members and their customers from the Great Lakes to the Gulf of Mexico. This action marks the next phase of the successful integration on Dec. 19, 2013, of the four-state electric grid spanning the southern region into MISO.
"A regional presence is important," said MISO's President and CEO John Bear. "This facility will provide the space necessary for us to build upon and develop a more focused approach to transmission system management and will result in more reliable and lower cost energy for end-use consumers."
Similar to the company's North Region Operations Center, the facility in Little Rock will serve as the command center for MISO's newly established South Region. MISO expects to hire roughly 50 employees with an average yearly salary of $85,000 for various positions, including real-time operations, market operations, customer services, government and regulatory affairs, information technology and administrative support.
"Little Rock is an appropriate location for us," continued Bear. "It's a well-educated workforce, in a city with a great deal of experience in transmission planning and engineering."
"We've worked with higher education and the private sector to build a workforce that can bring more high-paying jobs to Arkansas," Governor Mike Beebe said. "This is another strong example of collaboration producing continued economic growth for our state."
MISO expects to spend $22 million on its new facility in West Little Rock. The building is scheduled to be completed by the end of 2014 with an employee move-in date scheduled in spring of 2015.
"MISO is a great addition to Arkansas and is a testament that the committed partnership between the City of Little Rock and the Arkansas Economic Development Commission continues to attract topnotch 21st century businesses fostering job creation," said Little Rock Mayor Mark Stodola.
Dignitaries who attended the ceremony include Arkansas Governor Mike Beebe, Little Rock Mayor Mark Stodola, Arkansas Economic Development Commission Executive Director Grant Tennille, and Little Rock Regional Chamber of Commerce Chairman Gary Smith.
To read the full article www.katv.com